Deprecated
: Function split() is deprecated in
/home/buildi6/public_html/blog/wp-content/plugins/another_wordpress_meta_plugin.php
on line
181
Deprecated
: Function split() is deprecated in
/home/buildi6/public_html/blog/wp-content/plugins/adsense-manager/adsense-manager.php
on line
163
Deprecated
: Function split() is deprecated in
/home/buildi6/public_html/blog/wp-content/plugins/adsense-manager/adsense-manager.php
on line
163
Deprecated
: Function split() is deprecated in
/home/buildi6/public_html/blog/wp-content/plugins/adsense-manager/adsense-manager.php
on line
163
Deprecated
: Function split() is deprecated in
/home/buildi6/public_html/blog/wp-content/plugins/adsense-manager/adsense-manager.php
on line
163
Deprecated
: Function split() is deprecated in
/home/buildi6/public_html/blog/wp-content/plugins/adsense-manager/adsense-manager.php
on line
163
Deprecated
: Function split() is deprecated in
/home/buildi6/public_html/blog/wp-content/plugins/adsense-manager/adsense-manager.php
on line
163
Buy used and use cash
by Eric Janszen
Back in November 2006 we wrote How much of your car should you finance? Zero percent. Back then, a month after we released our forecast of a recession due to start at the end of Q4 2007, the housing bubble fueled economy was only just starting to wind down, and the mainstream press was still in denial about the coming post housing bubble bust. Now that the recession has arrived our advice to buy a car with cash instead of financing is getting a whole lot easier to follow – if you also took our advice and saved cash, too.

Our zero finance article explains that cars depreciate in value, just like flat panel TVs and other consumer goods. The interest that you pay on a loan if you borrow to buy a car is rent on your labor – what economists call economic rent. The banks earn this rent for doing absolutely nothing but loan you money. In the case of a car, by the time to loan is paid off, the value of the car has depreciated significantly. The difference between to total cost of the loan and the remaining value of the car minus the value you have extracted from use of the car is the amount of rent the lender has earned off your labor as you paid off the loan. If, on the other hand, you borrowed money to purchase an asset such as land that appreciates over the term of the loan, the value of the land once the loan is paid off and you own it is more than the total cost of the principle and interest on the loan. That's a good use of credit.
Taking out loans to buy goods that depreciate is selling your future labor at a discount to lenders who are doing nothing for you but taking advantage of your willingness to rent your labor on the cheap.
Now that doesn't sound very smart, does it? So don't do it – or at least do it as little as possible. But, you say, you don't have enough money to buy a safe car and you need a car to get to work.
Good news! The US economy is in a recession. Auto makers are getting hammered. Leasing and finance companies are on the ropes. It's your lucky day.
Toyota predicts earnings slide for first time in nine years

With economic problems, a weakening dollar, and surging costs for raw materials, automakers around the world are facing hard times. And now even mighty Toyota — once seemingly bulletproof — is predicting financial struggles in the months to come. For the first time in nearly a decade the company has said that its North American volume, operating income, and net income will all decline over the next fiscal year. – May 8, 2008 (Motor Trend)
Recessions mean great deals on new cars and this one is no exception. With dealers offering big discounts, should you buy a new car? We recommend you buy the safest car you can afford to purchase with cash but the median US household has only $5,000 in net liquid savings. Assuming a household is willing to spend its entire liquid net savings on a car, there hasn't been a new $5,000 car on the market since the 1970s. Buying a car with cash means buying a used car and letting some other dope take the depreciation hit.

New Cars: Always a bad idea, but even worse now
I was one of those dopes the last time I bought a car. I like to make this mistake at least once every ten years: A new car loses on average 20% of its value as you cheerfully drive it off the dealer's lot, sniffing the sexy scent of new upholstery. In the first year that follows, value fades with the aroma as the car depreciates by another 10%. In total, your shiny new car loses about 30% of its resale value in the first year. What's that in dollars?
The average new car in the US costs $28,400. Losing 30% the first year translates into $8,530 in the first year depreciation as the resale value falls to $19,880. Ugly, but it gets worse. Let's look at the other side of the transaction, what you still owe on that $19,880 in new car smell value that's left.
The average new car buyer puts down just 5% or $1,420 for the average car and finances the remaining $26,980 at an average interest rate of 9% for a monthly payment of $560 on a typical five year (60 month) loan. For the average car that means that at the end of the first year you still owe $20,260 on a car now worth only $19,880. You have spent an amount that is not recoverable at resale – ever – over $7,000 on depreciation.
You're too smart for that. Go used and use cash. Good advice anytime but in a recession if you have cash it goes a long way. The best in terms of value for your cash? Buy a car off lease.

Best used car deals: Cars coming off lease agreements
Want to buy a car that's nearly as good as new, usually with a full warranty, but with that ugly depreciation already paid by off by someone else? A recession is a bull market in cheap, high quality used cars coming off lease agreements.
Debt collection is big business

And when the economy is down, it's really big.

The industry is growing so fast, Northstar has installed several more rows of calling cubicles to handle the business. They're empty now, but by summer's end, Northstar executives expect them to be filled with new agents. Northstar's chairman, Joel Castle, says business is going to get even better for him, (worse for consumers) this summer when the bottom falls out of the auto leasing market. – April 30, 2008 (CBS News)
Off lease cars are costing dealers and manufacturers money. What happened last time the leasing market crashed during the 2001 recession? Desperate automakers throw the leasing companies under the bus with big discounts, and this time around free gas gimmicks, that wreck havoc on leasing company calculations of residual value. Residual value is an estimate of what the car was going to be worth at the end of a lease. If residual value was calculated during flush economic times when the cars were leased, during economic busts these estimates turn out to be grossly optimistic. According to a safecarguide.com from a report in 2001, here's what happened during the previous bust:
Millions of car leases financed by banks are expiring just as domestic new car prices are falling. In 1998 only 38% of lease customers turned in their vehicles at the end of the lease. Due to aggressive pricing and rebates offered by domestic automakers that percentage has risen to over 56% this year and banks and finance companies are panicking. The result is a gap between what banks expected the vehicles to be worth and what they're actually fetching at wholesale dealer to dealer auctions. In 2000 that gap cost banks about $2,000 per vehicle. This year (2001) losses are expected to rise to between $2,500 & $3,000 per vehicle.

How about this time around?
Used-car prices coming down quickly
Used-car prices are hitting the skids in Canada and the U.S., falling in some cases at the fastest pace on record as the North American economy continues to falter, Scotiabank says in its Global Auto Report.

In the first quarter alone, Scotiabank's used-car price index fell seven per cent below a year ago, led by an 11-per-cent plunge in one-year-old models, the weakest performance on record for data going back to 1978.

This is hurting automakers and finance companies, as many of the expired-lease vehicles are being returned to the manufacturer, creating losses of more than $8,000 for each vehicle repossessed, according to one analysis the report quotes.

That's good news for consumers but a blown gasket for manufacturers, as the decline is expected to extend through 2008 and into 2009, and as a flood of vehicles coming off lease pressures auto makers. May 01, 2008 (Canwest News Service)
The sweet spot for leased cars are those with 30,000 to 50,000 miles on them. If taken care of, the average modern car will go for 150,000 miles before it starts to develop serious and expensive maintenance problems; if you drive 12,000 miles a year as the average driver does, that used car off lease will last you more than ten years. So what if it doesn't smell like new?
Another advantage over the 2001 bust: Internet based car shopping was still in its infancy. Not anymore. Hit the Internet and you'll find many well constructed competing sites with bargains galore.
Buy a bargain: Buy American
American cars earned a reputation for poor quality during the terrible 1970s and 1980s and have never been able to shake it off, even though statistically many are as good or better than Japanese or German makes with a better quality reputation. The most recent J.D. Power & assoc. study from 2003, of vehicles that had been on the road for 3 years, lists 37 manufacturers in order of the least problems to the most. Here's the top ten listed best make first.
Lexus
Mercury
Buick
Cadillac
Toyota
Acura
Honda
Jaguar
BMW
Infinity
Let's assume you're better off than the median household. After all, you are smart enough to be reading iTulip.com. You can afford to buy a car with $10,000 cash. We visited cars.com and searched for used cars for sale under $10,000 with less than 50,000 miles within 30 miles of downtown Boston. The search returned 211 results with some cars under $10,000 with as few as 29,000 miles such as $9,888 for a 2001 Mercury Sable LS Premium with 28,738 miles on it. That's only a few grand more than the entire loss you'd take buying the average new car and, as an added bonus, you own it free and clear: no payments, no huge excise tax bill, title in the file drawer.
Still, if you haven't been saving and are in the $5,000 category, there are plenty of used cars for you among the list we found, like a 1986 Mercury Grand Marquis for $4,995 with 22,000 miles driven by an geezer back and forth to the local pub. Actually, we have no idea about the geezer but we do know that if you drive 12,000 miles a year and the Grand Marquis gets 15 MPG while the Mercury Sable gets 22 MPG, at $4 per gallon it'll take you five years to spend the extra $5,000 that the Sable costs to make up the difference in higher gasoline costs for driving the geezermobile. If you're not environmentally minded, there are serious bargains among the gas hogs.
Four dollar gas and the biggest bargain of them all: SUVs
As cheap as used cars are getting, especially big cars like the Marquis, car dealers are practically giving away gas guzzling trucks and SUVs as commuters pretending to be construction workers on the weekends rush to trade them in for smaller vehicles.
Used SUV sales in March were down 14 percent nationally compared to last year according to data compiled by CNW Marketing Research. That follows drops in used SUV sales of more than 8 percent for the first two months of the year, compared to the same months in 2007.

That trend has sent used SUV prices plummeting, giving owners a shock when they try to trade theirs in and find out how little they can get.

"Owners find out they don't have the trade equity they thought they had and are forced to keep their vehicles or come up with a large sum of cash to make up the difference," said Chris Denove, a vice president of the auto information firm J.D. Power and Associates. – May 12, 2008 (New Press)
How cheap are used SUVs? You can buy a 1997 Mercury Mountaineer for $6,585 with 61,426 miles on it or a 2003 Mercury Mountaineer with 61,402 miles for $9,988. How's that for cheap?

No hurry – auto sales plummet during recessions and this one has just begun
If you don't have to buy a car yet, it will pay to wait. Auto sales are historically correlated to unemployment for the obvious reason that the unemployed don't buy cars.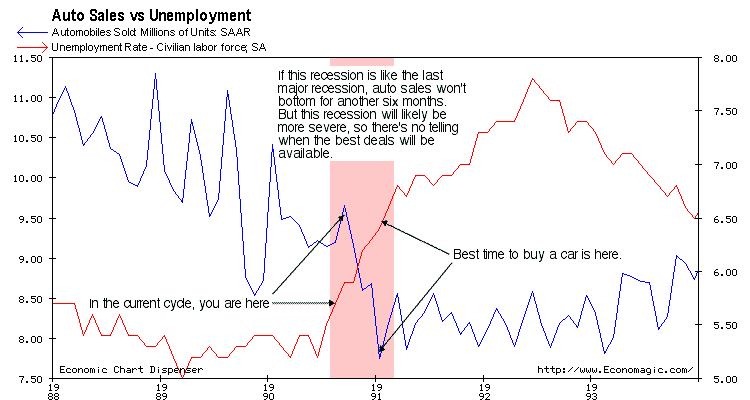 We are early in this recession and the good deals are only beginning. October 2007 our analysis told us this recession was going to be worse than the last major recession. Sir Warren Buffett says so now, too.
Buffett says recession may be worse than feared
April 28, 2008 (Reuters)

NEW YORK (Reuters) - Warren Buffett, the world's richest person, said on Monday the U.S. economy is in a recession that will be more severe than most people expect. "This is not a field of specialty for me, but my general feeling is that the recession will be longer and deeper than most people think," Buffett said. "This will not be short and shallow.
Summary
For low price and value used is better than new, used cars coming off lease are better than other used cars, American makes are a better deal than foreign makes, and SUVs are, if you don't care about global warming, the best cash deal of all.
You can take that to the bank. But don't – pay cash instead.
iTulip Select: The Investment Thesis for the Next Cycle™
__________________________________________________
To receive the iTulip Newsletter and iTulip Alerts, Join our FREE Email Mailing List

Copyright © iTulip, Inc. 1998 - 2007 All Rights Reserved